Braindumps.com Practice Testing Engine
Guaranteed results and certain certification!
Testing Engine Features
Prepare yourself for the easy to download Braindumps.com Testing Engine. With the Testing Engine you will witness the realistic questions and accurate answers to ensure you pass your exam. The Braindump.com Testing Engine simulates the actual testing environment so you will be more mentally prepared for your actual exam.
On July,6 2022 a new version of exam engine has been released: V2. It contains an improved user interface and simplified installation/activation process.
Benefits of the Testing Engine
100% guaranteed to help you pass your certification exams
Questions and answers verified by industry veterans
Enhance your understanding of answers with detailed explanations (if applicable)
Cover the same scope of questions in live exam
Experience multiple question types like drag-and-drop and multiple choice
Free updates to testing content during 90 days after the purchase
Installable on up to two Microsoft Windows computer systems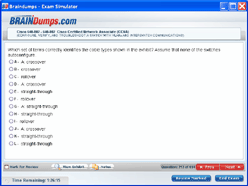 What do you get with the Testing Engine?
You have access to the purchased exam questions and answers along with the exam-like environment. This will provide you with 90 days unlimited practice and enhance your final result. The Testing Engine simulates the real-like exam environment and can be installed on 2 computes with Windows OS.
Ease of use, Easy to install
Installing the Testing Engine
Once you have successfully completed the purchase of the required exam with the Testing Engine software, you get access for 1 month to your product(s) in your member's account. Simply locate the exam you want to participate in and:
Locate the download link and right-click on it, selecting "Save As" and choosing the location/directory on your computer you would like to save it to. Your file will be archived using a .Zip format. You can extract the program using a free zip utility such as WinZip or 7Zip (winzip.com and 7zip.com) Locate the file once downloaded and Unzip it.
Double click on the unzipped file to execute the application (after unzipping the file name should be something recognizable such as AZ-104qa).
Allow the application to run and use the default settings. Select "NEXT". The Testing Engine requires the Java Runtime Environment (JRE) and will be installed if a version is not detected. Once these steps are complete the application will ask you for an authorization code, which can be found in your Braindumps.com Member's Area.
Click "Request Authorization Code" next to the exam you are installing. After a few moments an authentic Braindumps.com Authorization Code will display.
Copy and paste the exam Authorization Code into the installing application,a nd click the "Next" button.
CONGRATULATIONS! Your Testing Engine is now installed and ready to use.
Please Note: You are given two authorization codes, and are permitted to install the Testing Engine on up to two (2) PCs. Each authorization code is good for one installation only.
While you are granted permission to install the application on up to two PCs, you are not permitted to publish, distribute, or convey the Braindumps.com Testing Engine installer or authorization codes.